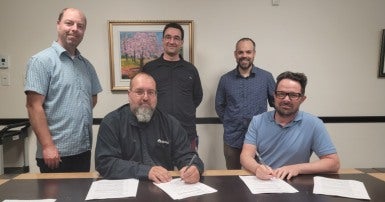 The 17 white-collar and 11 blue-collar employees with the Office d'habitation Rimouski-Neigette (OHRN) (housing bureau) have reached a new five-year collective agreement that runs from June 7, 2020 to June 6, 2025. The tentative agreement concluded in April was unanimously ratified by members at a general union meeting on June 7 and officially signed by both parties on June 23. 
The contract has an improved vacation package and better access to benefits for newly hired employees. It also has a teleworking policy that is adapted to the new reality.
"I wish to congratulate the members, who were quite mobilized and followed the processes to a T. Their participation made the difference," declared Pascal Chouinard, the newly elected president of CUPE Local 4649,
"The bargaining process took some time to get started due to the pandemic. Once it did, however, negotiations went quite well," added Sébastien Pouliot, a member of the union's bargaining committee.
"I salute the open-mindedness on the employer, which, despite a labour shortage, was proactive in attracting and retaining staff," added CUPE union representative Sylvain Lirette.
"The OHRN is privileged to rely on a group of mobilized and committed employees to fulfill its mission," commented Yann Bernier, Chair of the OHRN board of directors.
The OHRN's very mission is to offer low- or modest-income families or persons living alone, who are citizens of the Rimouski-Neigette RCM, quality accommodation suited to their needs.