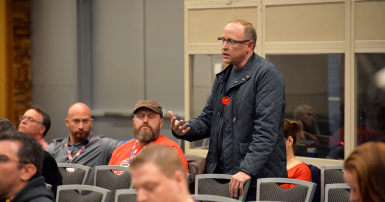 Urban centre population growth is fueling medical emergency call volumes, reported CUPE paramedic members attending the emergency services sector meeting at the CUPE National convention in Vancouver.
The "big losers" are patients and smaller and rural communities, agreed the paramedics and communications officers attending from across the country.  They stressed that country-wide, there aren't enough paramedics on the road, putting patients needing trauma care at risk.
They reported that it is not uncommon for paramedic teams to routinely attend to 12 to 20 emergency medical calls a shift. With no new paramedic hires and increasing call volume pressures, paramedics are burning out in record numbers.
In several provinces  - including Ontario, British Columbia and New Brunswick - there is an active effort to work with provincial legislators to bring in legislation recognizing post-traumatic stress disorder as a "presumptive" diagnosis for all emergency medical workers who often witness horrific accidents. They agreed that open dialogue about mental wellness and mental health injuries will support paramedics dealing with depression and addiction issues.
Paramedics are also mobilizing in several provinces to curb a proposal to dilute paramedic training in order to use less skilled personnel in medical emergencies.