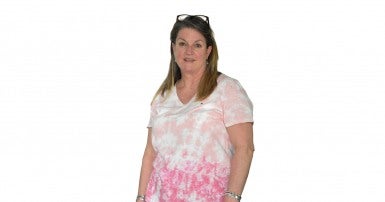 Daniel Gawthrop | CUPE Communications
For most Canadians, the COVID-19 pandemic is an extraordinary crisis, in which the call for social distancing has posed unsettling challenges to daily routines. But for vulnerable residents of Vancouver's Downtown Eastside (DTES), where crisis is an every-day reality, self-isolation is potentially deadly if there's no place to go and no food to eat.
It's a problem community health workers, like CUPE 15 member Ellie Schmidt, have to tackle.
Schmidt, a 20-year veteran of frontline health care delivery in the DTES, is a registered dietician with Vancouver Coastal Health. Assigned to three primary care clinics in the area, she works with the most marginalized population in Canada as part of a team that also includes doctors, nurses and nurse practitioners, community outreach support workers, social workers, pharmacists, respiratory therapists, mental health specialists and addiction counsellors.
"We work with clients wherever they are and in whatever way they can accept our services," says Schmidt, noting that she not only works in the clinic, but also visits clients at their single-room-occupancy hotels, on the streets or in the parks.
"The clients I see in the Downtown Eastside often have complex medical needs. They're living with multiple chronic health problems such as HIV, Hep C, cardiovascular disease, COPD, or diabetes, to name a few."
"Add to that substance use and mental health diagnoses, homelessness or deplorable living conditions and poverty, and it's clear that providing nutritional health education in these circumstances is "certainly not learned from a textbook" added Schmidt.
With the outbreak of COVID-19, Schmidt and her health care colleagues have had to keep the contact with their clients to a minimum.
"As health care workers, we're trying to protect the community of the Downtown Eastside from us. We're the ones who are more likely to be bringing it into the neighbourhood."
The first challenge Schmidt has had to address is food access. With the Provincial Health Officer closing all cafés and restaurants, the low-cost meals that her clients normally rely on are no longer available. Nor are the programs that normally offer free meals for hundreds of people at a time.
"On March 16, [the pandemic] hit us front and centre, and we started changing the way we work. For me personally, I spent that week basically working with all the clinics to develop emergency food bags."
Connecting with community partners, Schmidt and her health care team were able to set up an online source of information on where and when clients can get take-out meals. The result was a map to food in the DTES, which the health care team prints out and distributes throughout the community.
"With an awful lot of help from an awful lot of people, there's now a system in place for community members to find out where they can get a meal, where they can go and safely consume drugs, and where they can find handwashing stations," she says.
The biggest challenge, however, remains the social distancing imperative.
"When we're doing clinical assessments and a client has significant COVID-19 symptoms, whether the directive is to test them or not, we need to try to get our clients to self-isolate. Right now, our biggest challenge is trying to figure out how to isolate people who don't have homes. But we've always had to work outside the box, so that is nothing new for us," says Schmidt.