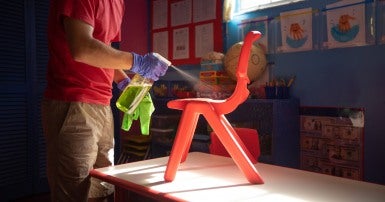 Leaders from the union that represents custodial and maintenance staff at Hamilton-Wentworth District School Board (HWDSB) are sounding the alarm about the loss of enhanced cleaning jobs in schools, saying that the cuts put students and staff at greater risk of catching COVID-19.
"Enhanced cleaning measures were crucial to stopping the spread of COVID-19 in schools. We need these services as much or more this year, especially as Ontario faces the fourth wave of the pandemic and is dealing with new variants of concern," said Blake Corkill, president of CUPE 4153.
During the COVID-19 pandemic, HWDSB received provincial funding for an additional 22 cleaning positions. The extra cleaners were deployed in the board's elementary schools, where they assisted additional staff with enhanced cleaning tasks during school hours. But this fall, only half the number of staff is left to provide the same levels of service.
"The people in these positions were responsible for cleaning and disinfecting touchpoints in common areas like washrooms, hallways, and stairwells. They worked up to eight hours a day in larger elementary schools, cleaning and disinfecting door handles, light switches, stair rails, toilets, taps, faucets and more, and did each task several times a day. Their work helped keep students safe and it played a huge role in the low transmission rates of COVID-19 in HWDSB schools last year," said Corkill.
"Without people to do those jobs this year, we don't know how we'll be able to perform the same high-quality work and keep schools as safe as we did last year."
Cutting back on enhanced cleaning and disinfection means that each school will lose up to 6.5 hours of touchpoint cleaning each day. The union proposed that additional funds be directed to provide at least 4 hours of touchpoint cleaning per day, but HWDSB denied that request.
"CUPE 4153 members care deeply about the conditions in schools, our student populations and our co-workers," said Corkill. "The request to provide at least 4 hours of touchpoint cleaning per day in each elementary school was based on what's needed to provide the safest learning and working environments for everyone who walks through the doors of an elementary school. The lack of proper touchpoint cleaning and disinfection means fewer safeguards for everyone in school this year as compared to last year."
He concluded: "While the school board holds press conferences and issues statements to families about the safe return of students next week, what they aren't saying is that students are going back to class in the board's elementary schools with lower levels of protection than they had last year."