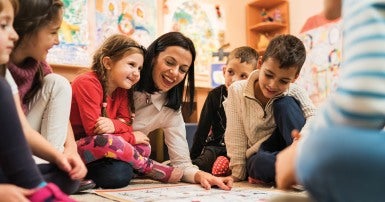 A recent report from the Canadian Center for Policy Alternatives shows that 92% of younger children living in Saskatchewan live in child care deserts. CUPE Saskatchewan, the union representing child care workers in the province, is calling on the Sask. Party government to address working conditions and build a workforce strategy in consultation with other unions, care providers, parents, and stakeholders.
The federal-provincial bilateral agreement set out a goal to create an additional 28,000 child care spaces by the end of March 2026. To date, however, the Minister of Education has indicated that only 4,696 new spaces have been created, and only 2,124 of these spaces are operational.
"We know that a significant expansion of child care spaces and facilities are required to meet the needs of working families. However, child care workers and operators are telling us that there is not enough qualified staff to work the additional spaces being promised," said Judy Henley, president of CUPE Saskatchewan. "We won't eliminate child care deserts without a comprehensive workforce strategy that provides child care workers with fair wages, better working conditions, and retirement security."
A backgrounder prepared by CUPE reports that most child care workers have few, if any, benefits. Non-salaried benefits, including group health benefits to cover prescriptions, dental, and vision care, decent pension plans, paid sick leave and paid vacations beyond the minimum statutory requirement, are critical to recruiting and retaining child care staff.
"One concrete step the Sask. Party government could take to make early learning and child care a real career opportunity for workers is to ensure enrolment in an existing province-wide defined benefit pension plan, like the Municipal Employees Pension Plan (MEPP). The Sask. Party government should also provide additional funding to enhance benefits for early learning and child care workers," added Henley.
There has been a huge spike in federal government funding for early learning and child care in the last two years, but provincial funding has remained static at $61.7 million a year.
"Child care centres need access to additional funds to cover costs that aren't covered by the federal funding. We need comprehensive funding to attract and train new workers, while improving working conditions and compensation to keep workers in the field," said Henley. "CUPE urges the Sask. Party government to reinstate their annual CBO funding increase to regulated child care centres to provide them with more flexibility to address operating costs and the salaries of both certified and non-certified staff."
CUPE Saskatchewan also supports the CCPA's recommendation calling on provincial governments to take the lead in publicly planning and managing child care expansion. Henley said this approach should involve utilizing public spaces like schools and municipal facilities.