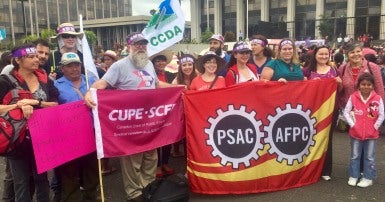 A delegation of CUPE staff and members are in Guatemala this week. They are there to learn more about the diverse efforts of grassroots organizations in raising issues about the rights of indigenous communities. The delegation is also learning about the movement to improve the livelihoods of Mayan farmers in the country through initiatives based on social justice, political action, and fair trade. 
The Mayan people represent over 50 per cent of the population of Guatemala. During the 1980's the Guatemalan army waged a war against the Mayan communities and social activists. The resilience of the Mayan people was evident in their resistance at the time, and their continuing efforts to defend their indigenous rights and culture. Despite constant threats, Mayan families continue to demand justice for their missing and murdered family members.
"Our delegation is hosted by the Comité Campesino del Altiplano (CCDA), a Mayan small farmers and rural workers' movement organization created in 1982," said Leo Cheverie, a member of CUPE PEI and the CUPE National Aboriginal Council. The CCDA works to defend the rights of indigenous communities and workers on coffee plantations. When the war ended in late 1996, the CCDA was able to leverage credits provided by the peace accords to obtain several coffee plantations for its members. "The plantation workers now run these plantations, and their coffee is processed in several coffee mills collectively owned by the CCDA. They call the coffee they produce "Café Justicia" or Justice Coffee," said Cheverie.
The CCDA uses the profits of its coffee sales to obtain new land for members, for community development projects, an education bursary, and political campaigning to realize legislation and action aimed at protecting the environment and strengthening the rural economy. "Their work directly challenges the interests of Canadian mining companies in the region, the privatization of water and the rapid expansion of sugar and African palm plantations used for biofuels, all of which has resulted in the violent displacement of Mayan farmers and the polluting or arbitrary diversion of dozens of rivers," said Cheverie.