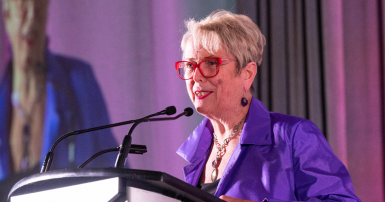 CUPE's national women's conference opened with a powerful speech by former national president Judy Darcy celebrating the strength and persistence of CUPE women.
Darcy shared stories of deeply personal and highly political feminist struggles, painting a picture of how far we've come – and the work still ahead.
A lifelong CUPE activist, Darcy was elected as CUPE's national secretary-treasurer in 1989 and served as CUPE's national president, the second woman to do so, from 1991 to 2003.
When Darcy attended her first CUPE national convention in 1973, equal pay, maternity leave and access to abortion, as well as the right to wear pants and apply for any job, were some of women's ongoing fights. Nobody talked about harassment in union spaces. And there were few women leaders, apart from trailblazing national secretary-treasurer Grace Hartman.
But strong CUPE women stepped up to lead, organize and resist.
Solidarity key to our power
"When I think back to how we won many of those battles, it boils down to five things," said Darcy. "We organized. We supported each other. We built campaigns and alliances. We were creative.  And we refused to take 'no' for an answer."
Building solidarity among all CUPE women, including women facing multiple forms of discrimination because of their race, gender identity, sexual orientation or ability, is the key to our power, said Darcy.
"As women leaders – and by that, I mean everyone in this room – we all have a responsibility to help kick open doors for all women," said Darcy.
"As long as employers and governments can treat some of us as lesser human beings, as long as they can pay some women less and exploit them more - they will keep pulling us all down in a race to the bottom line."
Darcy a progressive force
CUPE National Secretary-Treasurer Candace Rennick was a young long-term care worker organizing for safety and respect when she first met Darcy. "She too was driven by injustice. She herself had a long history of demanding more of our union. She believed in the power of organizing for change," said Rennick as she welcomed Darcy to the stage.
From direct action chaining herself to the seats of the House of Commons for abortion rights to winning office as CUPE's second woman president, Darcy overcame opposition and broke down barriers in our union and society.
Darcy reminded delegates of our hard-won victories on reproductive rights, child care, wage equity, resisting privatization, ending workplace violence, and confronting harassment in our union.
We need to keep pushing forward and to defend what we've won, including on child care, said Darcy.
"We can't let billions of dollars of federal money go to corporate child care profiteers. We have to fight for quality child care – and that means quality wages for child care workers too," she said.
Organizing and empowering women
CUPE's strength comes from our union's commitment to organize and empower our members, and to build campaigns and coalitions so no-one is fighting alone, said Darcy.
It takes "tireless campaigning" to win victories like the successful 18-year fight led by the Hospital Employees' Union to reverse the privatization and mass layoff of 9,000 health care workers in British Columbia, many of them racialized women, said Darcy.
Leadership is CUPE women stepping up and taking action, like the grassroots CUPE women - many of them Black and racialized workers - who led a cross-country campaign for wage equity during Darcy's time as national president. "Leadership wasn't handed to them. It never is! They became leaders through struggle. They were tested and came through with flying colours."
Safe union spaces essential
Darcy praised the work of CUPE women leaders and members to build union spaces that are safe for everyone. When Darcy and others confronted harassment and bullying in CUPE, they were told to 'lighten up,' that they were 'taking the fun out of conventions,' and that it was 'teasing.' But they stood strong.
Breaking the silence led to new no-harassment policies that grew into our Equality Statement, which was read out for the first time at the 1991 national convention.
Darcy shared a stark story of being harassed at that convention, where she was elected CUPE national president. In the middle of her victory party, a man approached her, supposedly to congratulate her. He looked at her chest and told Darcy he wanted an autographed bra.
"I was stunned. He didn't try to touch my breasts, but he may as well have. The impact was the same," said Darcy. Months later, talking with other women, she was able to name what happened. "It was harassment. It was meant to demean me. And it wasn't my fault," she said.
"Harassment is not our fault. Bullying is not our fault. It hasn't gone away, and it won't go away, unless we stand together to say 'no' to bullying and harassment in all its forms." 
Darcy closed by thanking delegates for their activism.
"I am incredibly inspired to see strong CUPE women leaders emerging in struggles right across this country. You make my 73-year-old feminist heart beat stronger than ever before."
After leaving CUPE in 2003, Darcy became the Hospital Employees' Union secretary-business manager and chief negotiator in 2005. In 2013 she was elected as an NDP member of the BC Legislative Assembly. She was re-elected in 2017 and was appointed Canada's first minister of mental health and addictions.