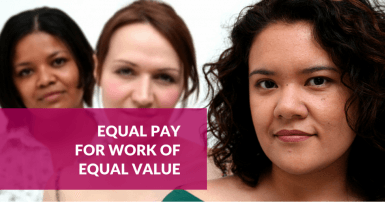 UPDATE: The NDP's motion was successfully passed on Wednesday, February 3, 2015.
Canada's largest union is urging all Members of Parliament to support a motion recognizing pay equity as a right for all Canadian workers. The Canadian Union of Public Employees is in full support of the opposition day motion introduced by the New Democratic Party which calls for the federal government to take action on closing the pay gap between men and women in Canada.
"This motion is simply asking for our federal government to acknowledge what is fair - workers doing work of equal value deserve the same pay," said Mark Hancock, national president of CUPE. "This government needs to be front and centre in the fight to get rid of the barriers that keep women, and others doing similar work, from getting fair pay for their work."
CUPE has been a leader in the fight for pay equity. Around 70 per cent of CUPE's 635,000 members are women. While unions like CUPE have made great strides at the bargaining table to close the gender wage gap, governments need to do more before we can achieve wider gains for more workers.
"These wage gaps are often caused by historic policies and practises that lessen the value of work done predominately by women and other equity seeking groups. This discrimination may not be intentional, but that doesn't lessen the harm and inequality it causes," said Hancock. "I hope all MPs will recognize the need to eliminate discrimination in all its forms and support this motion."
The pay equity motion will be the first opposition day motion introduced by the NDP in this Parliament. It will be voted on by MP's Wednesday, February 3rd.