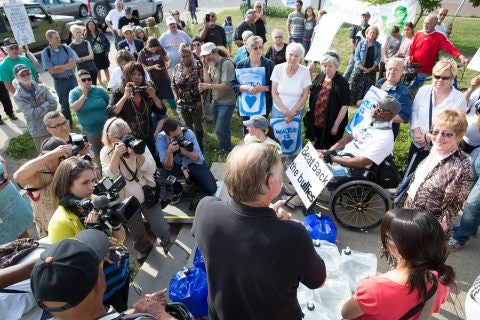 One-thousand litres of public water were greeted with cheers in Detroit, where over 120,000 citizens are locked in a water and human rights crisis. 
Paul Moist, national president of CUPE, joined Maude Barlow, national chairperson of the Council of Canadians, and other activists in a convoy from Windsor to Detroit to deliver the water, as a show of support and solidarity with people in Detroit who have had their water cut-off.
In April, the Detroit Water and Sewage Department started cutting off water to residence behind in their bills, effecting over 15,000 homes. The financially troubled city has declared bankruptcy, and many have fled for the suburbs or other cities, greatly diminishing the tax-base and leaving much of the public infrastructure – such as the water and wastewater system – in disrepair. Those who have remained in Detroit, mostly African-American and low-income earners, have seen utility rates rise over 119 per cent in the last decade.
To draw attention to the crisis, the Windsor chapter of the Council of Canadians organized the water convoy. Six vehicles set out from Windsor with the 1,000 litres of public water, crossed the Canada-U.S. border, and met up with U.S. activists, for a rally in downtown Detroit.
"If Wall Street banks can be bailed out, then Detroit citizens can and should be assisted by their governments," said Paul Moist to rally supporters, assembled at the iconic Spirit of Detroit Statue.
Just days before the water convoy, under growing public pressure, the department suspended the cut-offs, but for only 15 days.
Moist is calling on Detroit to stop the water cut offs permanently, to respect water as a human right, and to abandon plans to privatize Detroit water services. "Water rates need to be reduced, and the turn offs must stop," said Moist.
Following the rally, the convoy delivered the water to St. Peter's Episcopal Church, where parishioners and activists have set up a public water station for people affected by the cut-off.
Patrick Hannon, diversity vice-president (LGBTQ workers) for CUPE Ontario, was one of the CUPE activists to take part in the convoy. Hannon was born and raised in Detroit.
"Water is a necessity, and peoples' right to water cannot be understated," said Hannon on the water cut-offs plaguing his hometown. "To deny the most vulnerable access to water is not only shameful and irresponsible, it simply shows how government is not working for the people."
The water convoy gained lots of news media coverage, and helped raise international attention. Catarina de Albuquerque, the United Nations Special Rapporteur on the Human Right to Safe Drinking Water and Sanitation, has warned that the mass water shut-offs were a violation of human rights. Public Service International, the global representative of public sector unions, which CUPE is an affiliate, is also calling on the U.S. government to work with local authorities to resolve the crisis and restore public water.
Moist reiterated the call, and assured the people of Detroit that CUPE members and all social justice activists in Canada support access to public water for all citizens of Detroit.
"Our solidarity as workers and citizens who believe in public water is what unites us all," said Moist.
Photos: Council of Canadians