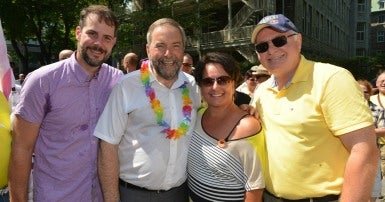 CUPE Quebec's pink triangle committee, as well as CUPE members and elected leaders participated in Montréal Pride festivities this past weekend. At the annual pride parade, Paul Moist, Charles Fleury and Lucie Levasseur, president of CUPE Quebec, marched alongside many labour activists.
Montréal Pride is the largest LGBT gathering in the francophonie. The festival's programming had 3 components: community and human rights, cultural, and festive. On Tuesday, August 11, festival-goers were able to attend the festival's first ever major concert for world peace.
For the fourth consecutive year, the theme of the Pride Parade was inspired by the rainbow flag; this year's colour was yellow, symbolizing the sun, energy and light. Pride Montréal asked all those participating in the parade to express the colour in original ways: sun, brightness, light, sparks, energy and pride.