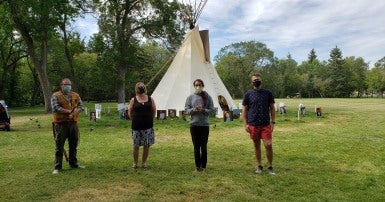 Saskatchewan is facing a suicide crisis. Over the last 15 years, over 2,300 people in Saskatchewan have lost their lives to suicide – the highest suicide rate in Canada. The issue is especially critical in Northern Saskatchewan where young people are 10-30% percent higher than those in southern communities.
On July 2nd two young men, Tristen Durocher and Chris Merasty, have drawn national attention to this important issue. The pair walked 630 km from La Ronge to Regina to raise awareness of the crisis and call for immediate action. With no response from the government, Tristen Durocher and his allies set up a teepee across from the Legislature and began a hunger strike.
"Too many voices have been silenced in this province," said John McDonald, Senator on CUPE Saskatchewan's Indigenous Council Committee. "This young man's sacrifice and determination embodies what it means to be a warrior. He gives voice to those who no longer can, and he fights for better care with a spirit steeped in the Generations of warriors who stand with him now."
"The Walking with our Angels camp has been targeted by the government, who would rather demand its removal than addresses this serious issue," said Judy Henley, president of CUPE Saskatchewan.
"Despite the urgency of the situation, the Sask Party government has repeatedly voted down private member bills to create a meaningful suicide prevention strategy. This is unacceptable."
CUPE Saskatchewan is joining the calls for action from Indigenous leaders across the province and standing in solidarity with the Walking with our Angels camp.