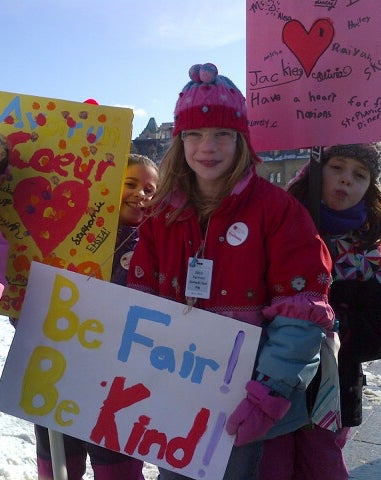 On February 14, 2017, children and young people from schools across the National Capital Region will be on Parliament Hill to celebrate Have a Heart Day.
This youth-led reconciliation campaign brings together caring Canadians to help ensure First Nations children have the services they need to grow up safely at home, get a good education, be healthy, and be proud of who they are.
CUPE is urging members, activists and staff to show their support.
There are many ways you can celebrate Have a Heart Day:
Find a Have a Heart Day event in your community 
Send a Valentine's Day card or letter supporting Have a Heart Day to the Prime Minister and your Member of Parliament.
Spread the word through Facebook. On Twitter, use the hashtag #HaveaHeartDay
CUPE invites Ottawa-Gatineau members to join the celebration on Parliament Hill. If your schedule permits, join with members of the CUPE Ontario Aboriginal Council and other CUPE members:
| | |
| --- | --- |
| Date: | Tuesday, February 14, 2017 |
| Time: | 10:30am to 11:15am |
| Location: | Parliament Hill, Ottawa |
| Weather: | If the outside temperatures are -15C or below, including wind-chill, then the event will moved to Fisher Park Public School / Summit Alternative, 250 Holland Avenue, Ottawa. |
To learn more about Have a Heart Day, and the on-going campaigns to get fairness and justice for First Nation children and youth, visit The First Nations Child and Family Caring Society.