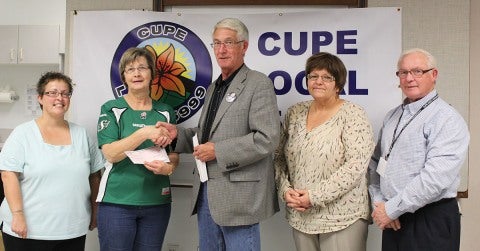 On October 16, CUPE representatives stepped up to help with flood relief efforts in Gainsborough.
Roughly 280 people live in the village of Gainsborough. The entire village was affected by flooding, including the hospital. The hospital was evacuated, with patients being dispersed to other medical centres in the region.
Many CUPE members in the region were also impacted, and the union is involved with the campaign to help families.
CUPE Saskatchewan, CUPE Health Care Council and CUPE National teamed up to donate $8,000 to the South Saskatchewan Flood Relief. Representatives of the organization were on hand to accept the cheque.
"Over 29,000 CUPE members across this province stand with the families of Gainsborough that have had to deal with the destruction of flooding," said Tom Graham, President of CUPE Saskatchewan.
CUPE Local 5999, which represents health care workers at Sun Country Health Authority, has also been offering financial support and volunteer time to help with flood relief efforts. It raised over $2,000 for flood relief.
"CUPE members are proud of their communities, and we saw the suffering that people felt during the flooding," said Sandra Seitz, President of CUPE Local 5999. "We wanted to help out in any way we could."
In the photo, please note:
Tom Graham, President CUPE Saskatchewan, Gordon Campbell, President CUPE Health Care Council and Sandra Seitz, President Local 5999 present a cheque for $8,000 to help with flood relief to Elaine Revet, Gainsborough resident and CUPE member and Marj Nystee from South Saskatchewan Flood Relief.