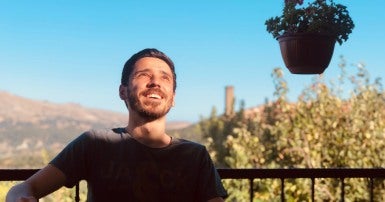 Wrongfully detained CUPE member Cihan Erdal says the solidarity and support of CUPE members gives him the strength he needs to keep fighting for his freedom. You can help end his ordeal in Turkey and bring him home to Canada. Take action now.
"I feel much stronger than when I was arrested," Erdal told convention delegates in a video message from Istanbul. "I would like to thank each and every member of CUPE whose presence I have felt by my side from the first moment I was detained. Your support gave me tremendous strength and resilience, and your support also showed that unions matter."
Erdal is a CUPE 4600 member who has been unjustly detained on unfounded charges in Turkey since September 2020, when he was swept up in a mass arrest of politicians, activists, and academics in Istanbul.
CUPE has had Erdal's back since day one, demanding his release and safe return home, and mobilizing our members to take action.
Our first campaign after his arrest drew thousands of supporters and put Erdal's case on Ottawa's agenda. Now, there are new actions the Canadian government can take to bring him home. Send a message to Canadian officials now.
There have been important developments in Erdal's case. In October 2021, the United Nations Working Group on Arbitrary Detention (UNWGAD) recognized Cihan's detention as arbitrary and unlawful. The working group found numerous violations of Erdal's human rights as protected by international law and is calling for his immediate and unconditional release. A Canadian permanent resident, Erdal has also applied to become a Canadian citizen.
Erdal's ordeal has prevented him from pursuing his research and building his promising academic career in Canada. He was jailed for nine months, including time in solitary confinement, before being conditionally released in June 2021. However restrictive bail conditions limit his freedom, and he cannot leave Turkey.
Erdal left delegates with an optimistic message about the power of collective action, saying "I do believe that we can win against all forms of political evil around the world. Let's keep fighting and hoping together."