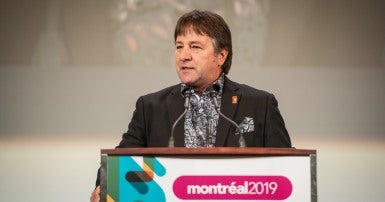 Thanks to careful financial management, a strong economy and steep membership growth, CUPE's revenues are increasing, National Secretary-Treasurer Charles Fleury told convention delegates on Monday.
''We have welcomed 50,000 new members since last convention. The result is more money for all three CUPE National funds,'' said Fleury.
The Strike Fund has reached an historic mark—now more than 100 million dollars strong—giving CUPE locals confidence at the bargaining table, he noted.
''Governments and employers know that if you attack one CUPE local, the largest strike fund in Canada is there to support them," said Fleury.
"That is exactly what happened in Ontario, where our members in the education sector were about to strike to say no to cuts. Because of our members' determination and the support of our 700,000 members across the country, our members got the fair deal they deserved.''
With a solid financial foundation, CUPE will continue to fight, grow, and improve the lives of our members and our communities, Fleury concluded.
"United, we will build a better future for all.''