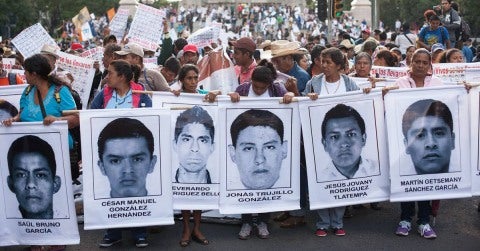 CUPE's National Post-Secondary Education Task Force, meeting in Ottawa this week, stands in solidarity with all those affected by the horrific kidnapping and murder of 43 student protesters in Iguala, Mexico, earlier this fall.
About one hundred students from the Raúl Isidro Burgos Rural Teacher's College in Ayotzinapa had traveled 250 km to protest the Mexican government's discrimination in education funding and to promote equal access for rural and urban schools.
Disturbing details linking the disappearances to local authorities have shed light on repeated human rights violations carried out by police and state security forces, including arbitrary detention, criminalization of protest, torture and enforced disappearances. Unfortunately, Mexican president Enrique Peña Nieto's administration has failed to fulfill its human rights obligations and has allowed for crimes to continue with impunity.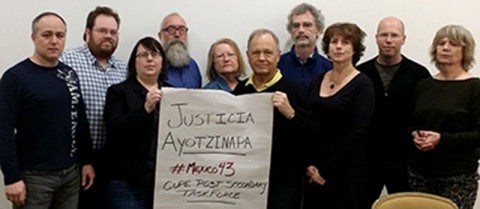 To mark International Human Rights days the PSE Task Force expressed solidarity with protesters from across Mexico who have stood up for justice, equality and peace. The Task Force also condemns the use of arrests and brutality as tools to stifle the right of people in Mexico to protest peacefully.
We urge the Harper Conservative government to finally break its silence on the issue, and to increase the pressure on the Mexican government to bring those responsible to justice and introduce major structural changes which will bring human rights to the centre of its political agenda.
Photo: Facebook