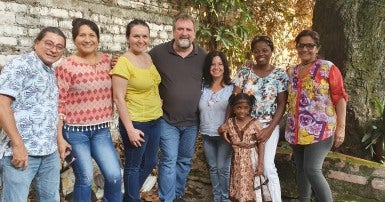 CUPE National President Mark Hancock and National Secretary-Treasurer Charles Fleury have written to Colombian President Ivan Duque, demanding an end to acts of intimidation and illegal surveillance against CUPE's Colombian partner organization, NOMADESC.
NOMADESC is a human rights organization based out of the city of Cali, that works with labour, afro-Colombian, Indigenous and campesino organizations. Recently, they have been providing legal advice and support for families of people killed, disappeared or detained by security forces during the national general strike that began in April.
In recent weeks, NOMADESC's office and staff have been the subject of escalating threats and surveillance, including the use of listening devices and surveillance drones, and an assault on NOMADESC staff by armed gunmen.
"We urge Colombian authorities and International Human Rights Institutions to take the steps necessary to ensure the safety of NOMADESC personnel and to investigate these recent acts of intimidation and illegal surveillance," reads the letter.
CUPE has strong and longstanding partnerships with labour and human rights organizations in Colombia. You can read more about CUPE's most recent delegation to Colombia in October 2019 here.