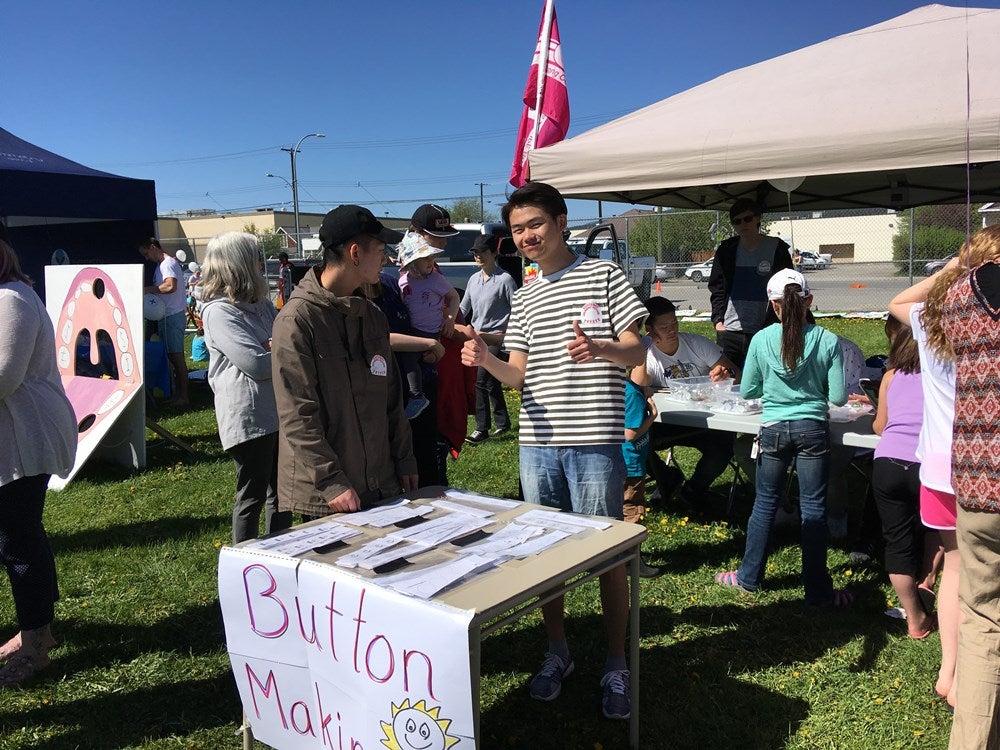 CUPE Seeds of Change, a community action committee, continued its volunteer efforts in supporting local community at Cranbrook's Children's Festival held on May 12. Sunny skies brought out the crowds and the booth featuring a button-making machine kept them busy.
The booth was a big hit with children and parents alike. Buttons included illustrations of butterflies, dogs, cats, rainbows, and the ever-popular Minecraft video game.
As well as the seven CUPE members who staffed the Seeds of Change booth, more than 20 international students from College of the Rockies showed their enthusiasm and dedication while helping out with half-hour shifts.
"Our CUPE locals care about and support diversity. We really appreciated the immense help we got from international students from the College of the Rockies," said Krista Napl, secretary treasurer of CUPE 4165. "Their presence helps everyone understand that people from other places are a part of this community, too."
Seeds of Change consists of members from CUPE 4165 (K-12 workers in Southeast Kootenay), CUPE 2090 (City of Cranbrook municipal employees), and CUPE 2773 (support staff at College of the Rockies.)
The three Cranbrook-area CUPE locals formed Seeds of Change three years ago as a way to get more members to participate in community events and help build CUPE's profile. They volunteered at the Children's Festival and Canada Day events and in the second year supported the festival and Pride events. This year, as well as again participating in the Children's Festival – one of B.C.'s longest running free festivals now in its 33rd year – they plan to help with the Boys and Girls Club fundraiser.