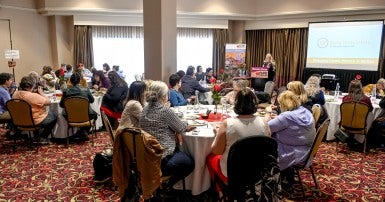 Participants at CUPE Saskatchewan's women's forum, Changing Lanes: Women in Motion, heard from two CUPE members who have made the leap into elected politics.
Vicki Mowat, MLA for Saskatoon-Fairview and a former member of CUPE Local 3287, spoke about the importance of having women leaders elected at all levels of government.
"We make a difference when we are at decision-making tables. We bring forward different types of ideas and legislation that focus on families, on education, and on child care."
Mowat urged members to get involved politically. "We can build a better Saskatchewan together. We just need to get involved."
Sharlene Miller, a member of CUPE Local 5430, has served as a city councillor in Prince Albert for three terms.
"As sisters, we need each other. It is much easier to be at the council table when there is a friendly face," said Miller. "It is difficult to run, but I encourage you to consider it."
CUPE Saskatchewan Women's Committee member Melody Stark spoke about the need for women to be engaged in politics.
"We would love to see more CUPE members step up and run for office. There are barriers for women getting involved, but CUPE is here to help out and support our members," said Stark. "Even if you don't want to run, there are many different things we can each do make a difference."