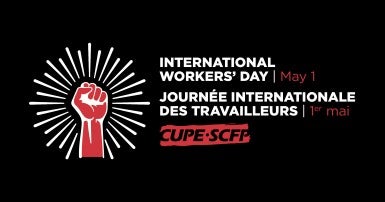 On May 1, workers around the world honour and draw inspiration from the activism and collective power that won the struggle for an eight-hour workday. This May Day CUPE recognized International Workers' Day in solidarity with millions of workers worldwide.
The COVID-19 pandemic has exposed the weaknesses and gaps in our workplace protections and renewed our resolve to fight for decent work, safety, dignity and respect. It has also highlighted the importance of public services and the value of front-line workers.
"Strong public services and public sector workers are at the heart of our recovery. Throughout the pandemic front-line workers have shown up to their jobs despite the risks to their own health and their families – it's time their government shows up for them," said Judy Henley, president of CUPE Saskatchewan.
On May Day, CUPE Saskatchewan recommitted to defending workers' rights and public services in Canada and around the world, and to building a post-pandemic world that doesn't go back to "normal".
"We will not allow governments to use COVID-19 as political cover to roll back workers' basic rights. On May Day and every day, we stand in solidarity with movements around the world resisting repression.  Until all of us are safe, none of us are safe," concluded Henley.