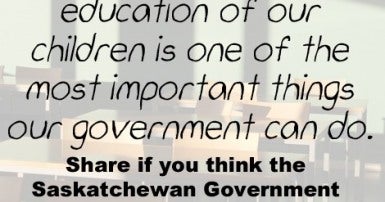 REGINA: CUPE education workers and supporters are taking to social media today to show their support for adequate funding for education.
"Many school divisions are already feeling a budget pinch.  Many school boards are dealing with increased enrollment and more complex student needs," said Jackie Christianson, chair of the CUPE Education Workers' Steering Committee. "Even a modest increase will not be enough for some school divisions to meet the need for frontline support staff. And when education support staff get cut, it's our children who suffer."
In Saskatchewan, there are growing concerns about what the approximately $260 million provincial budget deficit will mean for school boards across the province. Though the premier has said education will see a "modest" increase, many school boards are being told to budget for the worst case scenario.
"Parents and staff are starting to wonder what this transformative change the government keeps talking about will mean for students," added Christianson. "Budget considerations should never come before the rights to a quality education for our children, especially children with diverse needs. We need to speak out now to ensure that education in this province is properly funded and supported."
CUPE is encouraging people with concerns about education in Saskatchewan to share them on social media using the hashtag #supportsasked.  For more information about the impact cuts are already having on students and staffing levels, please read the attached backgrounder.
CUPE represents close to 7,000 education support workers in the province of Saskatchewan.