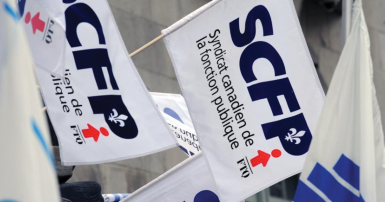 CUPE Quebec, through its spokespersons Patrick Gloutney, President of CUPE Quebec, and Richard Delisle, Vice-President of the CUPE Quebec's education sector, offer unwavering support behind the 55,000 education workers in Ontario.
These workers have been unsuccessful in their attempts to renew their collective agreement with the Ford government. With a strike mandate that received 96.5% support, they can trigger a work stoppage this Friday.
The Ford government invoked a notwithstanding clause to force a vote on special draconian legislation and impose a new four-year contract on workers. This decision violates the Charter of Rights and Freedoms and undermines the constitutional rights of members for five years.
"We wish to voice our strong support for workers in the Ontario education sector as they proceed with their pressure tactics. For far too long, the employer has shown them no respect. The reaction by the Ford government this week shows it has no intention of changing its approach. I'd also like to take this opportunity as well to thank all unions in Quebec that have shown their support for the strikers," says Patrick Gloutney.
These workers rank among the least well paid in Ontario public services, had their wages frozen 10 years ago and were ordered back to work by the Liberal government. More recently, legislation was passed, capping wage increases of all unionized public sector employees at 1% annually.
"Members in the CUPE Quebec education sector understand what their brothers and sisters in Ontario are going through. Our roles are often devalued in the school system, and governments unfortunately perpetuate this dynamic by offering working conditions that are unacceptable and incommensurate with the value of our contributions. The time has come for this to change in Ontario and in Quebec as well," says Richard Delisle.