Lisa Djevahirdjian | CUPE Communications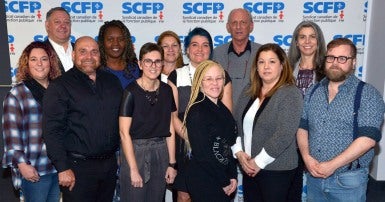 This past December, CUPE-Québec organized an important and engaging symposium on human rights, a first ever for the division.
Members of CUPE-Québec's Women's Committee, Pink Triangle Committee, Human Rights Committee, and Aboriginal Council were applauded for the quality and diversity of the sessions on offer to participants.
"Supporting marginalized people requires understanding their reality," said Josée Aubé, a CUPE-Québec representative in the Human Rights branch. "For example, in order to grasp the problems affecting Indigenous communities, we welcomed Natacha Tanguay, who worked as a researcher with the National Inquiry into Missing and Murdered Indigenous Women and Girls. It was a moving experience."
Conference participants also marked December 6th, the National Day of Remembrance and Action on Violence Against Women and the 29th anniversary of the École Polytechnique massacre. The symposium welcomed Nathalie Provost, one of the survivors of that tragedy.
The feminist activist's remarks were moving, but most of all, inspiring. She beautifully reminded participants that survivors must rise again to fight for a better world.
Following the speech, one of the women in attendance, who was only 13 years old when the Polytechnique tragedy rocked the country and the entire world, declared that she "personally became a feminist on December 6, 1989!"
Finally, the symposium wrapped up with an engaging discussion on how to reach out to equity-seeking communities within our union ranks.
"Their place is by our side, and together we will be able to improve the lot of thousands of workers," said Josée Aubé.
Interestingly, this symposium marked the first time a CUPE-Québec event attracted more women than men (60 per cent).