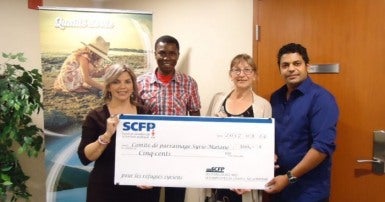 Members of CUPE Local 4602 representing employees of La Matanie regional county municipality (RCM) have voted unanimously at their annual general meeting to make a $500 donation to the Comité de parrainage Syrie-Matanie.
This committee of approximately 20 people is a private sponsorship group seeking to bring two Syrian families to the RCM.
The two families, with three and five members respectively, are currently located in Beirut, Lebanon.
The committee is confident that La Matanie, gateway to the Gaspésie, is a welcoming region that will be able to offer both families a safe and happy place to live and grow.
The committee, which has been meeting regularly since February 2016 to move the process forward, includes two members of Local 4602, Atef Ben Abdallah and Eugénie Arsenault.
"Besides sitting on the committee, Atef has volunteered to serve as a translator when the Syrian families arrive in Quebec," stated CUPE Local 4602 president Laurie Savard.
A fund-raising campaign is underway, and the City of Matane is assisting the committee with financial management of the donations.
The sponsorship committee invites people interested in making a donation or learning more to visit its Facebook page.
With nearly 115,000 members, CUPE-Québec represents approximately 70 per cent of all municipal employees in Quebec, or 32,240 members. CUPE is also active across a broad range of sectors, including health and social services, communications, education, universities, energy, government corporations and public agencies, air and ground transportation, the mixed sector and the maritime sector.