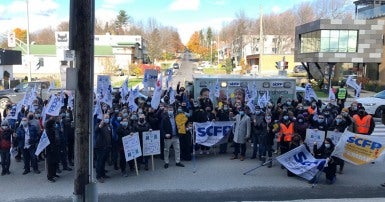 This Wednesday, from noon to 1:30 pm, more than a hundred employees in the health and social services sector demonstrated on King Street West in Sherbrooke on the issue of pay equity. The demonstrators, who are members of CUPE, are frustrated that complaints to maintain pay equity, which were filed in 2010, have still not been resolved. They involve about ten or so job titles, including the medical devices reprocessing attendant, administrative officer, medical secretary and executive assistant.
The demonstration was organized as part of a group appointed to review the new collective agreement of CUPE members in the sector. The cortege left the Delta Hotel at noon and headed to the King Street West offices of the CNESST (Commission des normes, de l'équité, de la santé et de la sécurité du travail), which is responsible for investigating these complaints.
"For more than 11 years now, these workers have been waiting for the pay equity adjustments they're entitled to.  During the negotiations of the last collective agreement, which wrapped up earlier this year, several similar cases were finally resolved, but unfortunately, the Legault government kicked the others down the road," explained Éric Bergeron, a CUPE union representative.
"At a time when the system has been having trouble recruiting people for these positions and where the consequences of staff shortages have hurt, this matter should not have dragged on for this long. It's another example of negligence by previous governments, which must be rectified as soon as possible," added Maxime Ste-Marie, president of the Conseil provincial des affaires sociales (CPAS-CUPE).