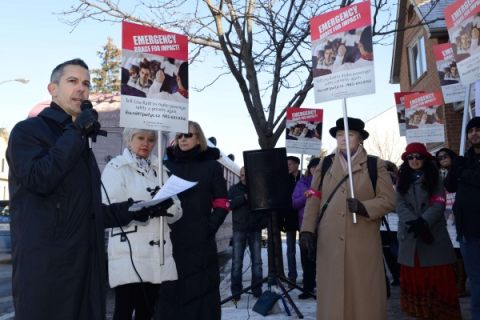 Milton, Ontario – Eighty flight attendants, members of CUPE's Airline Division, protested loudly at federal Transport Minister Lisa Raitt's constituency office to ask Conservatives not to play with fire when passengers' safety is at stake.
The delegation of safety professionals, led by CUPE National President Paul Moist and CUPE Airline Division President Michel Cournoyer, also presented a petition with 13,000 signatures calling for the one flight attendant for every 40 passengers ratio, a proven safety standard, to be maintained by all Canadian airlines.
The petition denounces the Conservative government's decision to allow Canadian airlines to adopt less strict and more dangerous standards for passengers, such as a one flight attendant for every 50 passenger seats ratio.
"The Conservatives need to understand a simple fact: fewer flight attendants means less security for passengers. The recent civil aviation history clearly demonstrates that an adequate number of flight attendants trained to deal with emergency situations greatly increases the safety of passengers," said Cournoyer.
As proof, Cournoyer recalled what happened during the July 6 crash of Asiana Flight 214 in San Francisco. In the burning aircraft there was one flight attendant for every 24 passengers and the cabin crew managed to evacuate almost every passenger. Closer to home, in August 2005 at the Toronto's Pearson Airport, an Air France Airbus ran into a ravine and caught on fire. All passengers were evacuated in less than two minutes. Again, the ratio was high: one flight attendant for every 30 passengers.
"The dangerous door that the Conservatives have opened in granting exemptions to WestJet and Sunwing must be closed as soon as possible. We ask the Conservatives to listen to reason and to step back in the best interests of passengers. However, due to the Conservatives' stubbornness, CUPE won't ignore any avenue to ensure the safety of passengers. This is why we are challenging this rash decision before the courts," said Moist.
CUPE represents over 10,000 flights attendants at Air Canada, Air Transat, Calm Air, Canadian North, Canjet, Cathay Pacific, First Air and Sunwing.