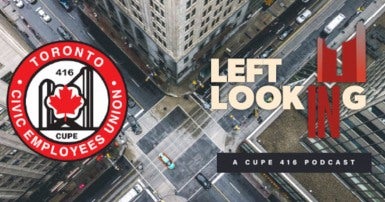 New episode of CUPE Local 416's podcast "Left Looking In" exposes frontline issues and real solutions to Ontario's health care crisis.

"We're getting more 9-11 calls than we could possibly handle right now," says Mike Merriman, CUPE Local 416 Paramedic Unit Chair. "Paramedics are rapidly burning out at an alarming rate, and the province isn't taking the steps necessary to resuscitate our crumbling health care system. It boils down to chronic understaffing and the out-migration of qualified, highly dedicated paramedics to surrounding regions."
Podcast guest, Dr. David Walker, a professor at the Departments of Emergency Medicine and Family Medicine in the School of Medicine at Queen's University and President of the Canadian Association of Emergency Physicians, says that Canada tends to run very lean on health services and offload delays are significantly hindering paramedic deployments.

"Toronto paramedics handle upwards of 400,000 calls a year. We're raising all the alarms to decision makers that call volume is on the rise, paramedics are burning out and leaving Toronto, and that unless something is done now to address these chronic issues, Ontarians will continue to have real, potentially life-threatening problems on their hands," says Eddie Mariconda, President of CUPE Local 416. "The province is taking a riskly gamble on peoples' lives—the need for timely and effective paramedicine has never been more pressing."

Left Looking In is a new podcast launched by CUPE 416 to host conversations on important issues that matter to CUPE members, friends, and family. Co-hosted by David Moscrop and Local 416 President Eddie Mariconda, with special guests from CUPE 416, and others in Ontario.