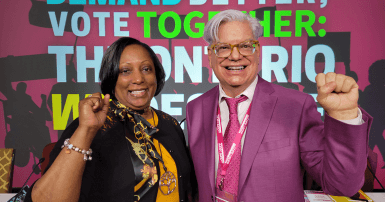 With CUPE Ontario's second virtual convention, and 58th in its history, still underway, delegates re-elected Fred Hahn as President and elected Yolanda McClean as Secretary-Treasurer, making history.
"I'm so thankful and humbled that the hard-working front-line workers and members of CUPE Ontario have entrusted me yet again with this position," said Fred Hahn, who has been president of the union representing 280,000 public workers since 2010.  "We might still be in the thick of an unprecedented crisis, but it's also an historic opportunity to collectively make Ontario the best possible province it could be. And when I think about how, in the midst of so much uncertainty, we could still always count on the skill, the caring, and the commitment of CUPE Ontario members, I feel incredibly hopeful."
Prior to his election as president, Hahn served in multiple roles within the union, starting as a member of CUPE 2191 when he worked as a residential councillor for children at Community Living Toronto. When first elected president of CUPE Ontario, Hahn made history as the first openly gay provincial leader of any union. Hahn also serves as an Executive Vice-President of the Ontario Federation of Labour, and a General Vice President for CUPE National.
The election of Yolanda McClean makes her the first Black and racialized officer of CUPE Ontario, the province's largest union.
"I am honoured to have the support and trust of local delegates and I'm incredibly humbled to be making history," said McClean, who was first elected as interim Secretary-Treasurer by the CUPE Ontario Executive in December. "This is a critical step in the direction of making our union's leadership reflect the diversity of our membership. I know we're stronger and more democratic than ever before and I'm excited to continue fighting to defend our members and the services we provide."
McClean first became active in the union in 1989 when she began working as a library technician at the Toronto District School Board, becoming a member of what is now CUPE 4400. As the Equity Vice-President of CUPE 4400 for the last decade, McClean has served in several positions at both CUPE Ontario and CUPE National.
McClean is also an Executive Vice-President at the Ontario Federation of Labour, a Regional Vice President for CUPE National, and President of the Coalition of Black Trade Unionists (CBTU) Canada.