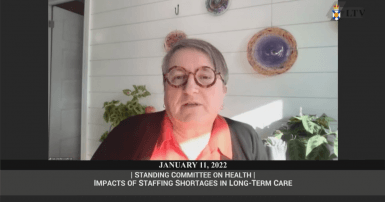 CUPE Nova Scotia President Nan McFadgen gave the following testimony to the Standing Committee on Health at the Nova Scotia Legislature via video conference today. Nan spoke about the impacts of staffing shortages in long-term care, and answered questions from committee members. Watch the entire committee meeting on YouTube at youtu.be/NbL19wYSeIU. 
My name is Nan McFadgen and I am president of CUPE Nova Scotia. I am pleased to be here today representing over 19,000 CUPE members, 4700 who work directly in long-term care.
I thank the committee for looking into the problem of staffing shortages and for inviting me to speak.
I bring you a simple and clear message from CCAs (continuing care assistants), dietary aides, housekeepers… the full range of workers who work in long-term care: "We are overworked and underpaid."
You may think being overworked and underpaid are two separate problems to have.
But long-term care workers want you to know that they are intimately connected.
One reason we are overworked is because there are not enough workers to fill vacant positions. We suffer from overwork when we can't get vacation, are forced to work overtime, or work short-staffed, because the workforce has been eroded by injuries, retirements and resignations.
Why aren't there enough workers to fill vacancies?  In one word: pay.
The word is out that care work is hard, and the pay isn't great. It's an unfortunate fact that in Nova Scotia the longer you work in long-term care, the less you can expect to make.
You heard that correct. When you take inflation into account, our members have seen their real take-home pay cut every year over the last eight years.
Poor pay has led to many experienced long-term care workers leaving. Young workers can find better paid options, in or out of province, that also provide better work-life balance.
The result is there are not enough workers available at the current level of pay.
And that increases… wait for it… overwork and the exodus from the sector. You get the picture.
I think we all know the solution to the long-term care staffing problem: increase the pay and hire more staff.
What is not yet known is whether this government will take the tough steps needed to solve the problem.
It requires compensation increases to retain existing staff and attract new staff, and there needs to be very significant investments in new positions.
In the time remaining I want to direct my comments to the specific question of increasing staffing levels in long-term care.
If there is a second message that my members want me to deliver today, it's this: "Give us the time to care."
What we mean by having the "time to care" is that long-term care facilities need to have a ratio of care hours that is legislated at 4.1 hours of hands-on care per resident per day.
It's been 20 years since CUPE bargained the last ratio of care. It remains stuck at 2.45.
Twenty years ago, some of our residents would drive themselves to the nursing home. Now they are, more often than not, brought in by ambulance. Acuity of care has increased but the time to care has not followed suit.
What would we see if the government funded and legislated staffing levels at 4.1 hours of care per resident per day?
Staff who are not exhausted and injured by their workload
Staff who can call in sick without condemning their co-workers to work short that shift
And staff who can again experience the joy that first drew them to the profession – caring for a person in need
These issues are at the root of why long-term care workers are being burnt out and leaving a job they love. I have heard directly from hundreds of long-term care workers and saw these problems grow first-hand during my 20 years as an LPN (licensed practical nurse) in long-term care.
In January 2020, CUPE CCAs who work at a nursing home in Pictou County participated in an experiment to see what 4.1 hours of care per resident would look like. Our members came in on their days off to bring the resident-staff ratio [up] to 4.1 hours of hands-on care per resident from the funded level of 2.45 hours of care per resident per day.
The impacts were incredible. Staff had the time to talk to residents or curl their hair. There were no falls during the period of the fully staffed experiment, and no behavioural incidents.
Most tellingly, our members told us about how even that short period of being able to have the time to care rekindled the love they have for their profession.
The effect of investing in higher staffing levels is [that] it will bring our seniors the high-quality care they deserve.
To conclude, I haven't even mentioned the word pandemic until now. The past two years have been extremely difficult for everyone, and in particular for residents and workers in long-term care.
There have been a lot of things said about the importance of the work our members do.
CUPE is currently in bargaining for its long-term care sector workers. Both issues I have spoken about today – staffing levels and compensation – can be addressed in that forum. It remains to be seen whether long-term care workers will be recognized [with] more than words for the critical care work that they do.
Thank you.