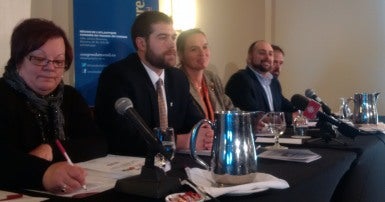 Fredericton - Premier Gallant just released his provincial budget, and it is clearly less about job creation and more about keeping the status quo. New Brunswick's public sector is still being slowly eroded and it is hurting the quality of our public services.
"Our members have come out strong during pre-budget public consultations: the government heard the message," said CUPE NB Acting President Odette Robichaud. "For this budget, they backed off drastic cuts and closures on K-12 education and health care. However, all departments are not safe, for if you read between the lines of the budget documents, the government has passed the buck to department managers and CEO's when it comes to announcing job cuts," Robichaud pointed out.
Finance Minister Roger Melanson announced that more than 200 casual transportation workers will lose their jobs, to the benefit of the private sector. Government is hinting at privatization in other sectors, notably in the Department of Finance and primary health care services.
"The presence of privatization language in this year's budget documents is alarming. There is absolutely no reason for this when the Gallant government has cut services, raised revenues, and now says the deficit has been dealt with through the HST increase," explained Robichaud. "I have this question: was this budget written with political goals rather than true fiscal considerations?"
"The province should focus on growing the economy, increasing wages, creating jobs, and raising general income for the province and maintaining quality public services for New Brunswickers. Our government should not wave the privatization flag because the deficit will be eliminated. Privatization lacks accountability and transparency, are of lower quality than in-house public services and simply cost more," concluded Robichaud.