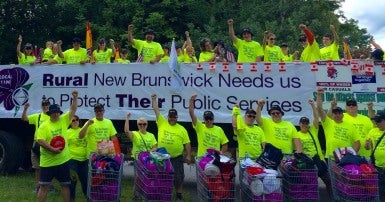 For the fifth year in a row CUPE New Brunswick and CUPE 1190 participated in St. Stephen's International Day parade. The route of the parade passes over the border between St. Stephen, New Brunswick and Calais, Maine in the United States. The parade is a longstanding tradition and is held to show the friendship between the two communities.
"It is important to show that the public sector does contribute significantly to our communities on both sides of the border. Hence why we're here to give back to the community in a little way, and to underline the importance of good quality public services, delivered by the public sector," said CUPE NB President Daniel Légère. "This is a show of solidarity with the trade union movement across the border in the United States. I noticed that when we played 'Solidarity Forever' when we were going through Calais, a lot of people were giving us the thumbs up and applauding."
The parade is very popular, with many people coming from the region to take in the events. It also allows CUPE to take our message across the border. Local 1190 participates in the event to bring a positive and welcoming message to rural New Brunswickers that we are defending their public services which are under attack by government cutbacks. Meanwhile it also lets those on the American side know that we are fighting for safe roads and good public services when they come to visit, as tourism dollars are an important part of our economy.
CUPE Local 1190 President Andy Hardy added, "This is also important because we need rural New Brunswickers and the public on our side of the border to know that we are the ones who do the work to keep this province running – not the people in suits and ties."