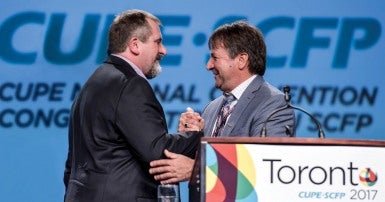 CUPE National President Mark Hancock and National Secretary-Treasurer Charles Fleury were both re‑elected Wednesday. In their acceptance speeches, they vowed to continue to strengthen our union and work with members to build a more fair and equitable Canada.
Mark Hancock, National President
Mark Hancock was elected the 6th National President of CUPE in November 2015, following two terms as president and four terms as secretary-treasurer of CUPE BC. 
Hancock became a CUPE member in 1984, and served 15 years as president of Local 498 representing Port Coquitlam Municipal Employees. His experience as a local union president and union activist directly inform Hancock's priorities since becoming National President; in particular, giving locals the support they need to make the gains their members deserve at the bargaining table – and to push back when they're under attack.
At the national level, Hancock has been an outspoken voice for building a fairer and more inclusive economy, and for defending the rights of an increasingly precarious workforce.
Charles Fleury, National Secretary-Treasurer
Charles Fleury has been the National Secretary-Treasurer of the Canadian Union of Public Employees since 2011.
Charles became an active member of CUPE 35 years ago, when he started working for Hydro-Québec. From day one, he has been a strong leader, first locally, then provincially and now nationally, always working towards equity for all workers; always fighting to improve working conditions; always thinking about building our communities and protecting our environment and our planet.
In the face of federal and provincial government cutbacks and the loss of public sector jobs, Charles is making sure the contributions of CUPE members are well invested to defend their interests, to push back against cuts and privatization, and to fight for social justice, here at home and around the globe.