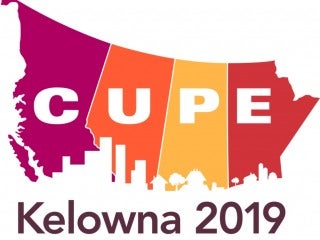 Municipal and library workers from Canada's four western provinces are gathering in Kelowna for their biennial conference on the challenges facing the municipal sector.
CUPE National Secretary-Treasurer Charles Fleury and CUPE BC President Paul Faoro both provided welcome remarks and spoke about the importance of organizing and political action, and the important role of municipal workers in Western Canada's labour movement.
"Western Canadian municipal workers have a long history of fighting for their rights, and improved working conditions," said Fleury. "They were at the centre of the Winnipeg General Strike in 1919, shut down the city for six weeks, and paved the way for major law reforms that made work fairer and safer for everyone across the country."
The conference, which runs from June 11 to 14, includes a range of breakout workshops and panel discussions, along with a presentation on the rise of right-wing populism in Canada. Key topics on the week's agenda include how to bring work back in-house, challenges facing precarious workers, strategies to bargain better benefits, conflict resolution, improving membership engagement, the challenges facing sister leaders, and political relationship building.
"The sessions are designed to address both emerging issues as well as long-term challenges facing our municipal members," said Organizing Committee Chair and CUPE BC Regional Vice-President Sarah Bjorknas. "While we need to focus on ground-level organizing that wins improvements for our members, we can't ignore national trends that may undermine our right to organize and threaten our right to free collective bargaining."
The three-day conference wraps up Friday with a panel session on pre-bargaining campaigns that will explore successful regional campaigns to improve the profile of CUPE municipal and library workers.