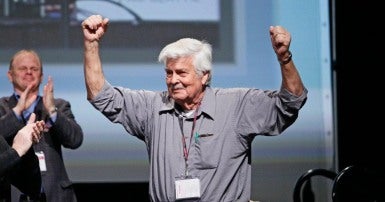 Building a union that is 700,000 members strong has taken a lot of years and a lot of hard work. This month we lost one of the people who helped lay the foundation of the union that CUPE is today. Bill Ferguson, the last surviving member from the 1963 founding convention, died in Kamloops February 14, 2021.
Bill began working as a labourer for the City of Kamloops, BC, in 1959. He became an active member of the National Union of Public Employees (NUPE), which represented city workers at the time. NUPE was one of Canada's two large public sector unions, and Bill joined the growing movement to bring it and the National Union of Public Service Employees together. Four years later, he was a delegate when the two unions merged in September 1963 in Winnipeg's Fort Garry Hotel to launch the Canadian Union of Public Employees.
From 1968 to 1982, Bill was a business agent for CUPE in BC. He was a founding member of CUPE 900 and organized workers across the Thompson-Nicola region including Kamloops, Merritt and Vernon. He then returned to the City of Kamloops where he worked until his retirement.
Bill remained active in the union and the Labour Council long after his retirement. In 2011, 2,500 delegates rose to their feet in a rousing ovation when Bill was honoured at the CUPE National Convention in Vancouver in recognition of his more than 60 years of dedication to the labour movement. May his lasting legacy as a champion of working people serve as an inspiration to us all.