Dan Gawthrop | CUPE Communications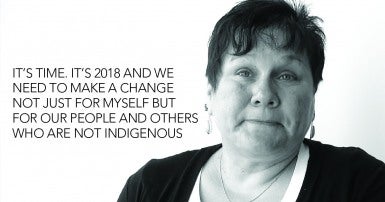 A video released by CUPE BC in time for National Indigenous Peoples Day (June 21) continues the dialogue on reconciliation, with CUPE members exploring what people can do both collectively and as individuals to foster equality and make Canada a more just society for Indigenous peoples.
"Reconciliation: CUPE Members Speak" is a thought-provoking, five-minute video in which members address different aspects of reconciliation and what the concept means to them. The testimonials, accompanied by a drumming composition from the Vancouver awareness and direct action organization Culture Saves Lives, focus on the need to redress historical wrongs by taking concrete actions in the present.
"Each of us has a part to play in making Canada a more just society," says CUPE BC President Paul Faoro.
"These testimonials contribute to the discussion on how to make that a reality. While the onus for reconciliation is on the non-Indigenous population that continues to benefit the most from the land we all share, all our members—"including those who are First Nations and Metis—have something valuable to contribute to this discussion."
Since November 2015, when the Federal Truth and Reconciliation Commission (TRC) released its 94 calls to action to redress the historic wrongs of the residential school system, a national dialogue has taken place about how to make Canada more inclusive and equitable for Indigenous peoples.
In the video, CUPE members address issues ranging from access to safe drinking water to the need to enforce Jordan's Principle, which guarantees the same access to services for Indigenous children enjoyed by non-Indigenous children.
The reconciliation video project is an initiative of CUPE BC's Indigenous Workers Committee.