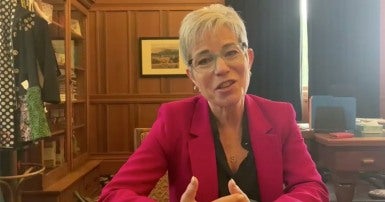 CUPE members are not only on the front lines of every challenge facing our communities but are leading the way to make lives better for everyone, BC Finance Minister Selina Robinson told delegates on Tuesday.
Robinson, bringing greetings on behalf of the province and BC Premier John Horgan, who is undergoing cancer treatments, noted how challenges posed by the COVID-19 pandemic and climate change have transformed our way of life.
"We have all seen the devastation that has impacted the Fraser Valley, and we know it's been CUPE members on the front lines of all these complicated issues in every one of our communities," said Robinson.
"This government appreciates public services and you, the people who provide them. These challenging times have been hard on so many. But as you well know in the labour movement, we are stronger together."
Robinson, noting the leadership of CUPE activists as the country faces multiple, generation-defining challenges at the same time, said it is shared working-class values that unite labour and government in B.C. Citing new investments in health and mental health services, business supports, affordable housing and childcare, she said the government's fiscal plan addresses ongoing challenges while laying the foundation for a strong recovery.
"We are making an historic investment in mental health, with a commitment to deliver $500 million over three years—the largest investment in mental health and addiction services in our province's history," said Robinson.
"We all want the same thing: to make life better for the people in our communities. We know, from our past success, that when we pull together, we can tackle the toughest of challenges. You are leaders in making that happen. We will do the work together."