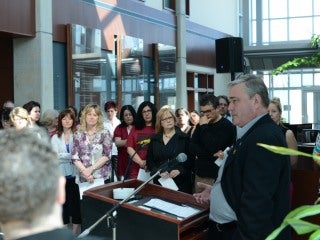 An emotional ceremony was held on the morning of April 28 to mark the International Day of Mourning for workers killed or injured on the job at CUPE national office in Ottawa.
CUPE members and staff in attendance heard from CUPE 503 (City of Ottawa) President Brian Madden, who spoke about Alain Bissonnette, a 503 member who tragically lost his life at work in February.
"I think one of the hardest things, for me, was speaking to Alain's mother," said Madden. "She told me, 'I want you to find out what happened to my son.' No mother should have to go through that."
Bissonnette, 40, leaves behind a wife and two children. His death is currently being investigated by the Ontario Ministry of Labour. CUPE is monitoring the investigation.
"That's where the labour movement comes in," said Madden. "We're the watchdogs, making sure this doesn't happen again."
Following Madden's powerful words, a candle-lighting ceremony honoured 10 CUPE members who lost their lives on the job since the last Day of Mourning. Members and staff were also led in song by Anne Healey, Executive Assistant to the CUPE National Secretary-Treasurer.
CUPE National President Paul Moist and National Secretary-Treasurer Charles Fleury were scheduled to attend a ceremony in Sydney, Nova Scotia hosted by the Cape Breton District Labour Council. The national officers are in Sydney for the CUPE Nova Scotia Annual Convention.
More photos on the CUPE Facebook page.