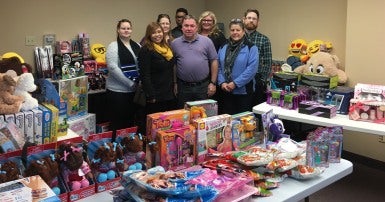 The CUPE Manitoba Young Workers' Committee honoured an annual tradition of giving, with a huge toy drive for kids in the care of Child and Family Services.
After weeks of preparation and outreach to locals, CUPE members really delivered, by donating hundreds of items for younger children and teens. The Young Workers' Committee, along with CUPE Local 2153, representing Winnipeg Child and Family Services support workers, joined together to give the toys and gifts to CFS on December 20, 2016.
"This is a chance for CUPE Manitoba to make a small gesture towards reconciliation and understanding," said Kelly Moist, President of CUPE Manitoba. "The fact that CUPE young workers make the effort to coordinate the toy drive each year is a good sign for the future. I am proud of all the locals and activists that worked together to make this happen."
CUPE Manitoba is pleased to work with Winnipeg CFS each year on this initiative – and thanks staff at the agency for carefully allocating, wrapping, and distributing the toys.
Added Moist: "We know that the holidays can be a time of loneliness and searching, and we hope that this donation of toys and gifts will let kids and teens know that CUPE members care about them and wish them the best."