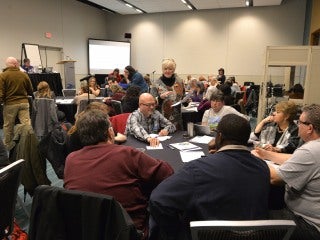 Library workers from across Canada kicked off the 2015 CUPE national convention on Sunday morning with a keen focus on precarious employment.
The focus on precarity makes sense when you realize that the library sector has the highest number of precarious workers within CUPE.
"Unfortunately, everyone in this room is a precarious worker in some way," said National Library Sector co-chair Maureen O'Reilly.
"We need to embrace the fact that we are all precarious workers," she added.
Noting that half of library workers are in part-time or casual employment, the workers agreed to make precarious employment the focus of one of their priority resolutions. Another priority resolution will focus on the issue of worker health and safety.
Following a series of reports from the National Library Committee, along with the BC, Alberta and Ontario Library Committees, participants broke off into smaller discussion groups to talk about the importance of dealing with precarious employment, and strategies for mobilizing members and the public.
"Public libraries are very beloved institutions in our communities and are very close to the people they serve. More often than not though, we are on the short end of the stick," said O'Reilly.
Delegates in attendance also paid a fond tribute to outgoing CUPE National President Paul Moist, who dropped by to visit and deliver brief remarks.