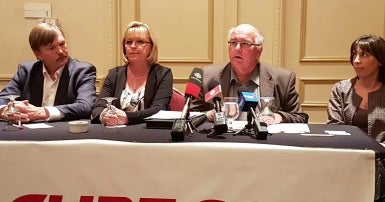 Fredericton, NB – The Canadian Union of Public Employees (CUPE) has served the province of New Brunswick with a Notice of Motion to intervene in a lawsuit launched by the Professional Institute of the Public Service of Canada (PIPSC) against the unilateral conversion of the province's Public Service Pension Plan into a Shared Risk Pension Plan.
"The rights of CUPE members and many other public sector workers were violated when the government unilaterally imposed pension changes on workers, in violation of their right to free collective bargaining," said Daniel Légère, president of CUPE NB.
In December of 2013, the Province adopted Bill 11 - An Act Respecting Pensions which converted the province's pension plan - to which CUPE's members belong - into a so-called 'shared risk' pension plan. Far from sharing risk, however, the effect of the conversion was to reduce benefits and shift substantial pension risk from the province to CUPE members and other public servants.
The conversion significantly reduced the benefits provided by the pension plan, significantly reduced the security of benefits and barred any collective agreement provisions that could improve members' pension benefits in the future.
"These changes violated our members' rights under section 2(d) of the Canadian Charter of Rights and Freedoms (the "Charter")," said Légère. "CUPE fully supports this court challenge and will intervene to defend our members' rights."
A Statement of Claim filed by PIPSC in February of this year alleges that the statutory imposition of the shared risk model, together with the denial of fundamental collective bargaining rights, substantially interfere with the guarantee of freedom of association protected by section 2(d) of the Charter. CUPE's intervention will support the challenge on that basis.
CUPE has also sought full disclosure under the Province's Right to Information and Protection of Privacy Act in accordance with the government's promise of transparency and openness in regard to the conversion. However, notwithstanding findings in favour of disclosure by the Province's Office of the Access to Information and Privacy Commissioner in a decision dated March 4, 2016, access to conversion relevant materials has so far been denied.