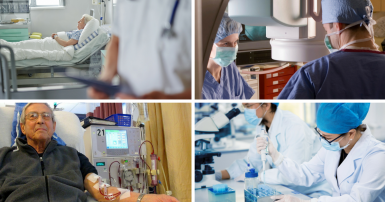 Beds sit empty at Digby hospital, while neighbouring hospitals are unable to meet needs of all patients.
"The Nova Scotia Health Authority (NSHA) is not doing enough to ensure the Digby General Hospital is being used to full capacity," says Carl Crouse, CUPE national representative. "Right now, there are approximately half of the 33 beds sitting empty, while hospitals nearby are reportedly in need of more beds on a regular basis."
"Digby has had empty in‑patient beds and empty restorative care beds for months now," adds Crouse. "In a provincial health care system where there is overcrowding and bed shortages, it's a real failure of the health authority to have any facility operating below capacity."
"Our members are joining the call by the community, including the Digby Health Coalition, to improve public health care in the area," says Nan McFadgen, president of CUPE Nova Scotia.
"We agree with the coalition. The health authority and elected officials are not listening to the workers who provide health care services or the residents who depend on them," says McFadgen. "We want to see a comprehensive plan that will deliver better quality, full‑service health care and allow the Digby community to be a part of the decision‑making process."
CUPE 8920 represents 4,700 members working in acute care facilities across the province, including the Digby General Hospital.