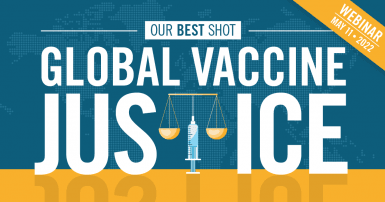 CUPE is inviting members and community leaders from across Canada to an important webinar about the fight for Global Vaccine Justice. On May 11, join forces with CUPE, social movement and international solidarity activists to learn how Big Pharma greed is prolonging the global pandemic and what we can do about it.
Heading into the third year of this worldwide crisis, one key lesson learned is that if we don't make COVID-19 vaccines available to all, we are setting ourselves up for failure.
Are we ready to see never-ending cycles of new variants, overwhelmed health care systems, and more tragedies?
Pharmaceutical companies are recording profits of over $1 million per hour. While Canada and other wealthy countries grabbed 89% of the global vaccine supply, low- and middle-income countries were shut out from vaccines and treatments. Globally, billions of people are still waiting for their first dose. Many people are calling this the "Vaccine Apartheid".
At the start of this pandemic, Prime Minister Justin Trudeau joined world leaders to pledge that any COVID-19 vaccines developed with government support would be a "global public good of the 21st century" that is "available, accessible and affordable to all". But under pressure from pharmaceutical lobbyists, he has renounced his pledge.
Trade rules make the situation worse. The World Trade Organization's Agreement on Trade Related Intellectual Property Rights (TRIPS) enables pharmaceutical companies' super profits by virtue of their control over production and distribution. Many countries, particularly in the Global South, have proposed a TRIPS waiver for the prevention, containment and treatment of COVID-19. But rich countries like Canada are blocking the temporary suspension of patents and other intellectual property, such as data from drug trials.
World leaders have the power to immediately end Big Pharma's monopoly hold on COVID-19 vaccines, tests, and treatments. This will allow countries to produce the affordable life-saving medicines their populations desperately need.
Canada must put peoples' right to access vaccines and treatment first and stand up against the growing power of Big Pharma.
Bringing an end to this global pandemic requires a global solution. Let's take action!
What? Our best shot: Global vaccine justice webinar
When? May 11, 2022 at 7pm ET – you can click here to determine the time in your region
On May 11, join our webinar to learn more about why global vaccine justice is an important fight and how we can hold Canada accountable for their actions, with:
Feminist activist Rajnia de Vito, based in Rio de Janeiro, Brazil, Campaign Associate of the Feminists for a People's Vaccine campaign, on how gender and racial discrimination in vaccine roll out is grounded in colonial legacies and structural sexism.
CUPE 4207 Vice President Leila Meskine, Women's Representative on CUPE Ontario's Executive Board and CUPE National's Women's Committee member, on why this is an important fight for CUPE and workers in Canada, particularly women and workers with diverse immigration status.
Nik Barry-Shaw, Council of Canadians Trade

&

Privatization Campaigner, on what's really going on with the TRIPS waiver and why we need to hold Canada accountable for their role in negotiations.
CUPE 5430 President Bashir Jalloh, member of CUPE National's Health Care Issues Committee, on why this is an important fight for CUPE's health sector members and what we can do to support this campaign.
CUPE 2722 member Brittany Lambert, Women's Rights Policy and Advocacy Specialist at Oxfam Canada will moderate the discussion.
This virtual event is endorsed by the Trade Justice Network, the Council of Canadians, and Oxfam Canada.
Starting on May 1st, International Workers Day, the Trade Justice Network has launched a call for action for a People's Vaccine. Leading up to the next WTO Ministerial Conference in June 2022, where the TRIPS waiver will be on the agenda, let's hold the Canadian government accountable.
Register to attend here: cupe.ca/vaccine-justice