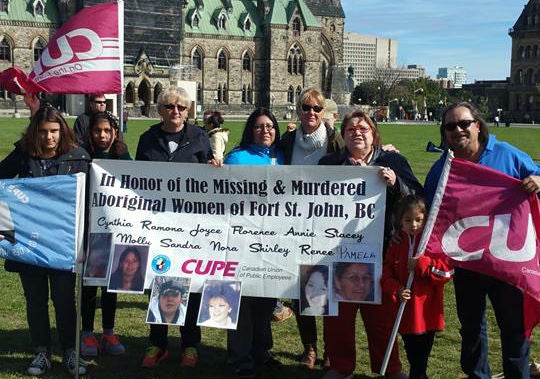 ​CUPE stood in solidarity at vigils to honour the memories of missing and murdered Aboriginal women and girls, and to call for action to end the epidemic of violence. More than 100 events took place across the country on October 4.
The vigils were organized by Sisters in Spirit, a research and education project initiated by the Native Women's Association of Canada (NWAC) to investigate the alarmingly high number of missing and murdered Aboriginal women and girls in Canada.
CUPE's long-standing support for Sisters in Spirit continued this year, including at the Ottawa vigil on Parliament Hill. CUPE members and staff raising their voices on the Hill included Joanne Webb, CUPE Ontario Aboriginal Diversity Vice-President and National Aboriginal Council Senator, Carol Chapman, CUPE 3550 President, and CUPE 3550 member Gloria Chapman.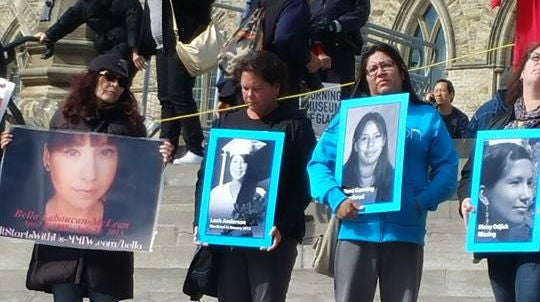 ​CUPE 3550, which represents workers at the Edmonton Public School Board, sponsored murdered Blueberry First Nation member Pamela Napoleon's son to attend events in Ottawa. The local also helped Connie Greyeyes come to the Ottawa vigil and share her story. Greyeyes is connected to 14 Aboriginal women who are missing or have been murdered.
Before the Conservative government cut their funding, Sisters in Spirit tracked nearly 600 deaths and disappearances. NWAC is calling on the federal government to hold a national inquiry into the epidemic. Delegates at our 2011 and 2013 National Conventions made the issue of missing and murdered women a priority for our union, including calling for a national public inquiry.
This year also marked the 10th anniversary of grassroots support group Families of Sisters in Spirit (FSIS). The group is led by and for families of missing and murdered Aboriginal women, and is based in Ottawa on the traditional territory of the Algonquin peoples.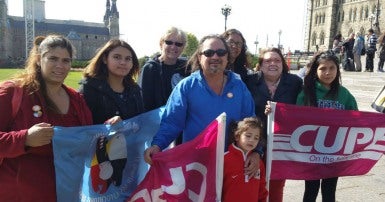 Our union showed solidarity with FSIS at events leading up to the vigil in Ottawa. FSIS organized a screening of the documentary "Our Sisters in Spirit," followed by bannock and tea and a meet-and-greet with families at the Wabano Centre for Aboriginal Health. The group also worked with grassroots group No More Silence and area Aboriginal women's support centre Minwaashin Lodge to organize a pow-wow, ceremony and feast honouring the children of missing and murdered Aboriginal women at a local high school. Together everyone shared memories, drummed and sang.

Click here to view the Facebook photos