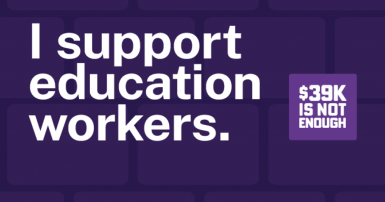 At a press conference in Ottawa, Bloc québécois Member of Parliament (MP), Alain Therrien, made an unacceptable comment by claiming to be indifferent about what is happening in Ontario in the conflict pitting education workers against the Ford government. 
"Instead of condemning this attack on the right of workers to negotiate in good faith, the Bloc québécois is giving carte blanche to governments interested in using every means at their disposal to impose a contract on workers. What Bloc MPs are telling us is that the precedent that the Ford government has created is of no interest to them. Are people aware that not all workers enjoy the same conditions of federal MPs and that good faith negotiations are the only avenue they have to improve their working conditions?" says Patrick Gloutney, President of CUPE Quebec.
With a strike threat looming, the Ford government chose to impose back-to-work legislation by using the notwithstanding clause to shield itself from all legal recourse instead of negotiating in good faith.