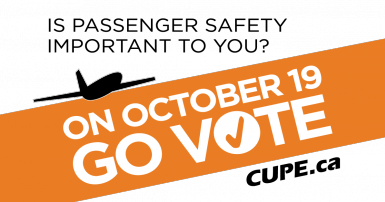 OTTAWA – Canadian Union of Public Employees' airline division passed a motion formally endorsing the New Democratic Party in the federal election. 
The motion was adopted by representatives of CUPE flight attendants for Air Transat, Air Canada, Calm Air, Cathy Pacific, Canadian North, First Air, and SunWing. There are 10,000 CUPE members in the sector. 
Michel Cournoyer, President of CUPE's airline division, said that flight attendants support the change represented by Tom Mulcair and the NDP.  
"The NDP is promising to restore the critical health and safety regulation that requires one flight attendant per 40 passengers," Cournoyer said. "The Stephen Harper Conservatives reduced the ratio to one flight attendant per 50 passengers, which created an unacceptable safety risk for workers and the public." 
"Especially today, remembering the many flight crew, passengers and others who lost their lives during the events of 9/11, we must reinforce safety on our flights."  
"But our support is not just about the NDP support of flight attendants. It is also important to see change in our government's position toward all Canadians, such as the NDP commitment to protect pensions and the CPP, start a $15 a day national child care program, and reverse the $36 billion cuts in health care brought in by the Conservatives," Cournoyer said. "The NDP's priorities are our members' priorities, and we know a Tom Mulcair-led NDP government is the best option for all Canadians." 
"We're proud to stand with Tom Mulcair and the NDP," Cournoyer said. 
The Canadian Union of Public Employees is Canada's largest labour union, representing over 633,000 members.
For more information:
Philippe Gagnon
CUPE Media Relations
 613-894-0146