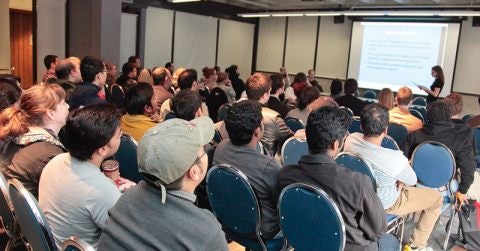 David Jacks | CUPE Communications
Members of CUPE 3909 at the University of Manitoba were shocked when they first learned that the University was planning to increase graduate student continuing fees by a whopping 350 per cent. CUPE 3909 represents over 2,000 teaching assistants, graders, instructors, and librarians at the university, many of whom are also currently graduate students. "Many graduate students finance their degrees by working part time on campus," said Ana Vialard Hart, President of CUPE 3909. "The fee increase would have undermined their work dollar-for-dollar." 
The local immediately launched into action, sending out a news release, as well as a callout to members condemning the university's plans. Other on-campus groups, such as the Graduate Students' Association held forums, and planned a rally inb opposition of the massive fee hikes.
Because of the immediate outcry presented by members and allies, the Manitoba Minister of Education stepped in, and halted the university's plans. 
"We are pleased that this government understands the impact this fee hike would have had on our members, and the student body as a whole," said Kelly Moist, President of UPE Manitoba. "Because of the quick response of our membership, the fee hike was defeated within a week of its announcement."
CUPE 3909 is on the front line of defending affordable public post-secondary education in Manitoba, and while the battle rages on, we'll count this as a major win.