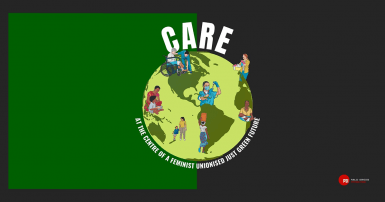 Against a backdrop of gender inequality and a worsening climate crisis, CUPE delegates joined feminist and labour activists from around the world to push for global policies that fight climate catastrophe and empower women and girls, including public investments in care work and a just transition.
The 66th Session of the United Nations Commission of the Status of Women (CSW) was focused on "achieving gender equality and the empowerment of all women and girls in the context of climate change, environmental and disaster risk reduction policies and programmes." The event took place March 14 to 25.
CUPE delegates and many other trade union women participated virtually because of the ongoing pandemic. We heard from international labour leaders, climate advocates, Indigenous land defenders, and feminists on everything from just transition to the link between climate change and gender-based violence.
Public Services International and the Canadian Labour Congress delegation led the way in lobbying governments to recognize that decent work for women is critical for a just and equitable transition away from high emitting industries. Public investment in the care economy is central to this transition – including safe, unionized jobs in long-term care, health care and child care.
Our advocacy was partially reflected in the final Agreed Conclusions (the statement of priorities that governments are expected to implement). The conclusions covered many areas, including:
Recognition of relevant International Labour Organization standards on women's right to work, and women's rights at work.
Recognition that these standards are critical to ensuring a just transition and the creation of good, green jobs.
The need to better reward paid care work and address the unequal burden of unpaid care work.
Acknowledgement of the importance of equal pay for work of equal value.
Commitments to work towards eliminating workplace violence and sexual harassment.
Recognition that equal access to universal health coverage and public services is "fundamental for strengthening the resilience of women and girls."
The need to involve workers and their communities in discussions that affect their livelihoods.
Protection and promotion of women's rights at work including the right to organize and bargain collectively.
Acknowledgement of the role of Indigenous women and trade unions in defending human rights.
The fight continues, however. The Agreed Conclusions fell short in recognizing the need for wealthier, high-emitting countries (including Canada) to compensate countries most affected by climate change for loss and damage. The conclusions are also silent on the need for disarmament and to reinvest military funding into public services and renewable energy. As Public Services International's General Secretary Rosa Pavanelli put it, "bombs are not green."
Trade unions, along with many civil society organizations, also remain concerned about the way many organizations were effectively shut out of the session. CUPE and others were originally told that access to the UN would be limited to government representatives. At the last minute, however, the Secretariat announced that organizations would be able to enter the UN during the CSW.
By then it was too late for anyone not based in New York to arrange for in-person participation. This was especially disenfranchising for advocates from the global South. It also likely further entrenched the heavy influence of private sector corporations on the CSW proceedings. We will oppose this setting a precedent for civil society engagement in future CSW sessions.
Despite the challenges, our delegation ended the week with new tools to advocate for a gender-transformative and worker-friendly response to climate change. CUPE will continue to call on Canada and international actors to end workplace violence, invest in public services, and defend decent, high-quality green jobs.
Read more about the events on Public Services International's UNCSW blog.