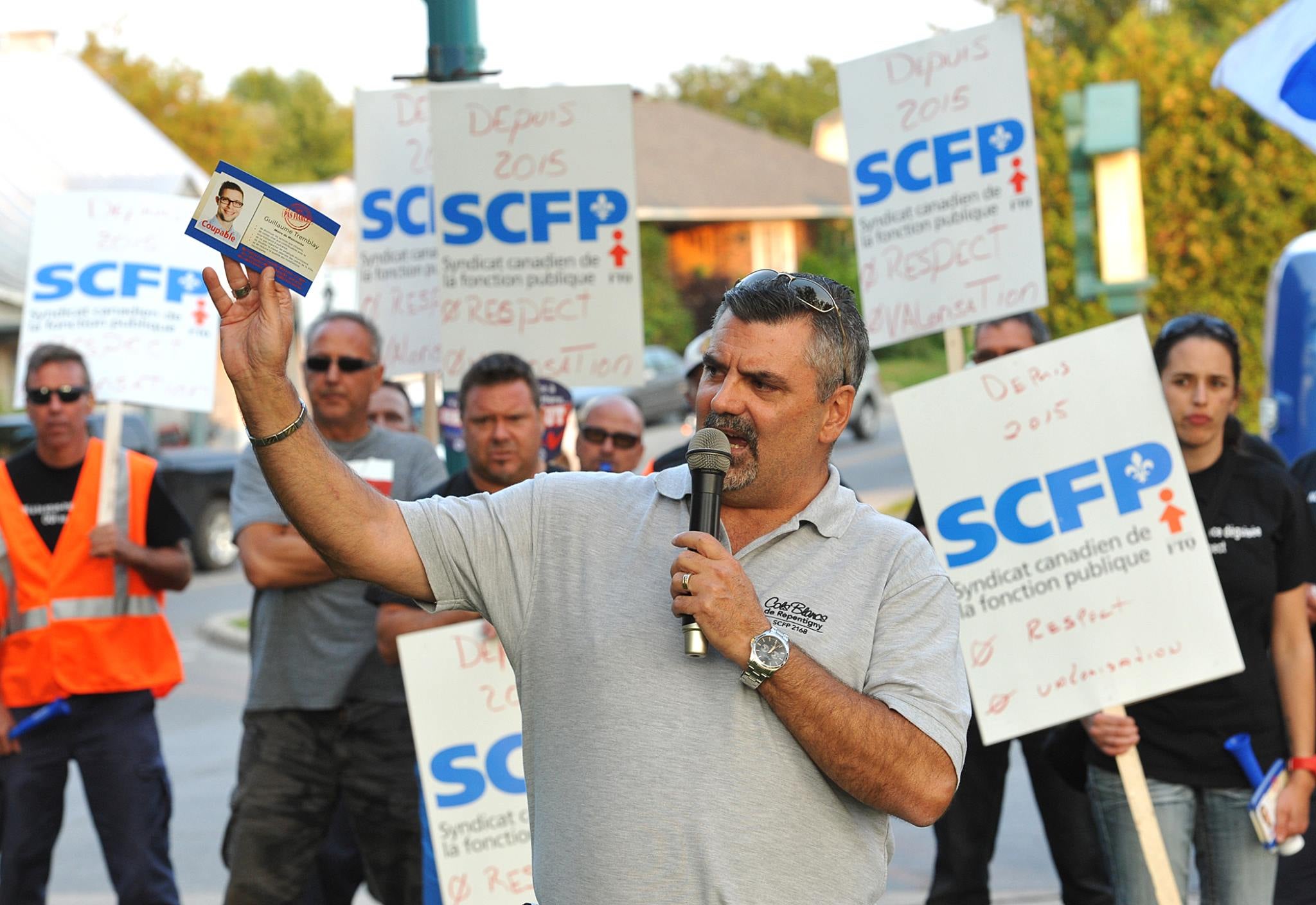 The Canadian Union of Public Employees, via its municipal sector provincial council (CPSM) representing unions including blue‑collar workers in Mascouche, Québec demonstrated Monday evening outside the Mascouche city hall during a municipal council meeting.
That city's unionized workers gathered to express their frustration with the actions of Mascouche's current mayor, Guillaume Tremblay, whom CUPE charges with cutting services to citizens, making taxpayers pay for the excessive contracting out of work, showing disrespect to its employees, doubling the payroll of senior city staff and compromising the quality of municipal facilities.
CUPE produced and distributed a new postcard in its "Les pas fiables" ("The Untrustworthy Ones") series, this one featuring Tremblay. The series of collector cards was launched in April 2016 to draw attention to municipal politicians, some of whom had been accused of abusive and anti-union practices. Others had been facing or found guilty of criminal charges.
The city of Mascouche was in the news in 2012 when seven individuals were arrested following a police operation carried out by the province's permanent anti-corruption squad, UPAC. The mayor at that time, since deceased, was one of those arrested and accused of taking part in a system of corruption and collusion in relation to the awarding of municipal contracts. Four of the accused had eventually pleaded guilty to the charges.
CUPE finds the actions of the current administration in Mascouche to be troubling. "This past January, we held a press conference at which we set out facts and figures as evidence of the return of doubtful management of taxpayer money by the city of Mascouche," stated CUPE Québec President Denis Bolduc. "Surprisingly, these practices appear to be continuing despite the Charbonneau Commission's conclusions!"
CUPE also spoke out then against the doubling of the payroll of senior city staff during a period when the population of Mascouche has grown by only around 2,000 people.
"Under Mayor Tremblay, the number of managers has skyrocketed from 25 in 2013 to 46 in 2017," added provincial council president Patrick Gloutney. "At the same time, work that used to be done by municipal employees is now being contracted out to private companies, causing 15 people to lose their jobs. This all smells fishy to us – very fishy!"
As the municipal elections approach, CUPE is calling on both the people of Mascouche and the media to remain vigilant about what is going on in that community.
With nearly 115,000 members, CUPE Québec represents approximately 70 per cent of all municipal employees in Quebec, or 32,240 members. CUPE is also active across a broad range of sectors, including health and social services, communications, education, universities, energy, government corporations and public agencies, air and ground transportation, the mixed sector and the maritime sector. It is the largest FTQ-affiliated union.