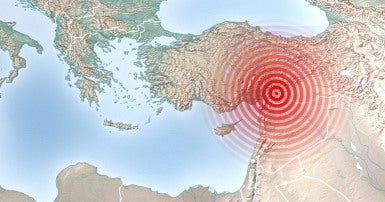 CUPE has donated $50,000 to earthquake relief efforts in Turkey and Syria. The impact of the earthquake on people in both countries is heartbreaking and utterly devastating. 
The death toll from the massive earthquake is over 35,000 people and will likely rise. Tens of thousands more are injured and without homes or livelihoods. The scale of the infrastructure damage from the February 6 quake is difficult to comprehend, and the needs of survivors are overwhelming. 
The donation is going to the International Federation of Red Cross and Red Crescent Societies (IFRC) and will be directed to the Turkish Red Crescent and Syrian Arab Red Crescent. Both organizations are responding in the hardest-hit areas where recovery efforts continue, and where future needs for support will be greatest.
According to the IFRC, "the vulnerabilities are coupled on top of harsh winter conditions, making it unbearable for many. The vulnerable living conditions, particularly in Syria, are even further stretched in a decade-long war. People who lost their homes and loved ones need our support. We must join forces and do our best to help."
CUPE's donation is part of an important international effort to provide essential immediate humanitarian assistance and long-term support and solidarity in the months and years ahead.