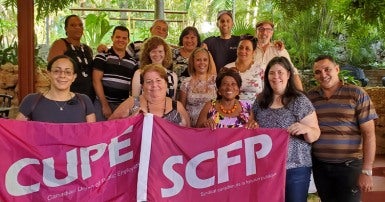 In November 2019, a CUPE delegation visited our partner union in Cuba, SNTAP (the National Union of Public Administration Workers) to plan the next steps in an ongoing partnership and learn about the reality for workers and unions, including the impact of the worsening US embargo.
The visit marked the end of a five-year project funded by CUPE BC and the CUPE Global Justice Fund. The project developed and delivered shop steward training, including setting up and equipping three union training classrooms.
With the project successfully wrapping up, our delegation mapped out the next phase of our collaboration. In partnership with CUPE, SNTAP now plans to tackle health and safety training, focusing on education about the importance of health and safety, raising awareness about workers' rights, and promoting better protection for workers.
A system that puts workers first
CUPE's delegation met with many unionized workers and union representatives. There are 19 national unions in Cuba, under the umbrella of the CTC, the Central de Trabajadores de Cuba (the Cuban equivalent of the Canadian Labour Congress). Fully 94 per cent of workers are unionized, with independent workers (such as street artists and vendors at a market) unionized through co-ops.
It was interesting to learn about Cuba's trade union structure where, for example, union representatives have a seat at management meetings and have a say in setting production and service goals. At monthly assemblies, unions and employers report back to workers on progress towards jointly set goals, in addition to regular labour relations meetings.
Cuba has a rich history of class struggle and socialist reforms. It's an inspiring country to learn about alternative economic systems and workers' resistance to neoliberalism. In addition to CTC and SNTAP leaders, the delegation met with health care workers, leaders of the public tourism union, union representatives from the Cuban public banking system, and union representatives from Havana's public conference centre.
These visits gave insight into a socialist society where people's needs are prioritized, and the public sector dominates the economy. For example, Cuba's food subsidy program provides everyone with a basic weekly basket which might include eggs, coffee, sugar, meat, and vegetables.
It was a real shift in perspective to see that institutions like banks, hotels and conventions centres were public. Having public banks gives people access to low-interest loans, including in times of natural disasters, such as the tornado that destroyed many homes in Havana in January 2019.
The delegation also learned about Cuba's world-renowned health care system in a visit with workers at a health care facility. The health care system is free to all and includes dental and eye care, physiotherapy and medication. The country's community-based clinics look at health care in a holistic way, which includes promotion, prevention, care and rehabilitation.
Embargo punishes country for adopting socialist system
A recurring theme was the devastating impacts of the US embargo, which has tightened since US President Donald Trump came to power. The embargo has been in place for over 60 years, as punishment for adopting a non-capitalist economic system. US companies face reprisal and sanctions if they export goods to Cuba. Companies from other countries that do business with Cuba risk being banned from doing business in the US. The embargo makes imported goods, including parts needed to repair equipment, difficult to access and expensive.
The embargo added a layer of difficulty to CUPE's collaboration with SNTAP. Sending money isn't enough to equip a training centre since it's difficult to buy computers, screens, projectors and even paper and notebooks locally. CUPE supported the classrooms by sending computers, printers, paper and projectors, as well as much-needed spare parts for the union's vehicles.
A CTC representative told us the decades-long embargo has led to two truths: the struggle is not easy; but we can overcome it.
This saying rang true throughout the delegation's visit. We saw the resourcefulness and ingenuity of Cubans, such as a physiotherapist who uses empty water bottles filled with sand as weights for rehabilitation exercises. We saw horse-drawn buggies brought back into service and ancient American cars retrofitted with smaller, more fuel-efficient Lada or Chinese-made engines. Fewer and fewer ships are willing to transport oil to the island under the US embargo of both Cuba and Venezuela.
The delegation was a transformative experience. It has led to better understanding of the Cuban reality and stronger solidarity with Cuban workers, as they face hardships created by the US embargo. The next steps in our ongoing worker-to-worker solidarity, focused on health and safety training, will unfold starting in 2020.
Delegation members: Aman Cheema, CUPE 402 secretary and member of the CUPE BC International Solidarity Committee; Debra Merrier, CUPE National Executive Board Diversity Vice-President and CUPE BC Diversity Vice-President - Indigenous Workers; Rebecca Reynard, CUPE 5430, member of CUPE Saskatchewan's Committee against Racism & Discrimination; Carmen Sullivan, President, CUPE 900, CUPE BC Alternate Regional Vice President; Steve Stewart, CoDev Executive Director and member, CUPE 1004; Monique Ménard-Kilrane, CUPE staff.